Dothan Electronic Service
Dothan Electronic Service has been serving the Wiregrass area for more than forty years.

Established in 1970, our goal has been customer satisfaction, and that goal remains today.

We specialize in television repair including flat screens (LCD, LED, plasma), lamp projection, CRT projection (big screens), and even those good ole CRT units (they just don't make 'em like they used to). We also have most lamps in stock for your DLP TV. If you are experiencing white dots on your Samsung or Mitsubishi DLP, contact us for more information for possible extended warranty service.

Don't throw that TV away that has been damaged by lightning or surge without having it checked first. The vast majority of units damaged by lightning or surge are (feasibly) repairable and will be restored to the condition it was before such damage. Please contact our service center for more info.

As of September 1, 2014, we limiting our services to TV repair only and are (indefinitely) suspending our services on audio/video equipment to include stereos, VCRs, DVDs, and home theater systems.




---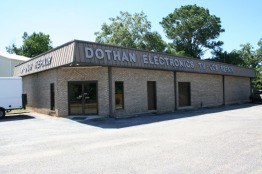 We would like to help with your television troubles, so please call us at 334-792-0551 or email us at
des1610@graceba.net
.
Please visit our "more" tab for information on warranty service and used TVs for sale.
We accept all major credit cards.